SQUARE STATE INSURANCE: SERVICE, SAVINGS, SELECTION
Square State Insurance is an Independent Insurance Agency founded on three key ideals: Service, Savings, and Selection.  Square State Insurance clients have their agent's cell phone number.  Clients routinely save over 50% off their insurance premiums.  Unlike most agencies, we are insurance brokers and have access to numerous insurance carriers.  With all three of these factors, we are able to offer the best Service, Savings and Selection.
Square State Insurance focuses mainly on Property and Casualty products.  These are Homeowners Insurance, Auto Insurance (Car Insurance), Renters Insurance, Motorcycle Insurance, Boat Insurance, RV Insurance, Umbrella (Liability) Insurance and much more.
Additionally, Square State Insurance partners with one of the best Commercial and Business Insurance Brokers for all of your Commercial or Business Owners' needs.  We also have an in house Life Insurance specialist that guarantees the best rates on Life Insurance products.  Overall, Square State Insurance is your one stop for all of your insurance needs.  We are located in Denver, but serve the entire great state of Colorado.
About Square State Insurance – Get To Know Your Agent
My name is Jeff Evans and I am an Independent Insurance Broker licensed in Colorado for over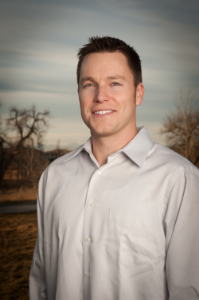 seven years.  I was first introduced to the insurance industry when I was in Little League in Washington state and our coach was an agent.  Through Middle School and High School he was always a mentor and I saw some of what being an agent meant.
After I graduated top of my class from Washington State University with a degree in Entrepreneurship and International Business, I had to decide what I wanted to do for a living.  I was offered several jobs with large financial firms, but with my entrepreneurial mindset it was hard for me to go to work for someone else.  While on a family vacation my brother-in-law asked if I would be interested in working with him in the insurance industry.  The idea of becoming an Independent Insurance Broker intrigued me.
In 2007 I became licensed to sell Property and Casualty insurance in the great state of Colorado and have not looked back since.  Over the past seven years I helped grow a small agency into one of the fastest growing and highest rated agencies in all of Colorado.  We routinely received growth bonuses from our carriers which are not given out often.
After growing as much as I could under someone else's brand, I decided to start my own agency where I can focus on what matters to me: Service.  Square State Insurance is focused on the client experience.  Every client has his or her agent's cell phone number and we pride ourselves in returning voice-mail, E-mail and even text messages within an hour. I encourage you to contact us if you ever need anything.