In the next couple weeks, people all around the Denver area should have a little extra time to enjoy the rich holiday activities that the metro area has to offer. If you're not sure where to go, Square State Insurance has you covered with some of the top holiday suggestions for the Denver area. Ready the hot cocoa, warm up the car and get the family bundled up for these great seasonal activities.
See The Lights
One of the most popular holiday activities is looking at Christmas lights around the city. This year make sure you don't miss out on the fun. Several public institutions like the Denver Zoo and both Denver Botanic Gardens locations all offer great opportunities to look at spectacular lights displays through the season.
Zoo Lights
Arguably the most popular Christmas lights attractions in Denver is the annual Zoo Lights. Light displays span 70 acres around the zoo. Visitors are treated to nightly shows, opportunities to encounter animals, and of course a chance to meet Santa. The Christmas lights offer stunning displays with illuminated animal sculptures that swing from trees, jump into the air and more. Denver Zoo Lights run from December 2 to January 1, 2017. The Zoo closes at 4pm and reopens at 5:30pm for nightly Zoo light displays. Visitors cannot stay after the 4pm closing and need to buy separate tickets for the Zoo Lights event. The Zoo closes every night at 9pm, which allows plenty of time to see all the spectacular light sculptures the zoo has to offer.
Tickets: Adults $17, Children $12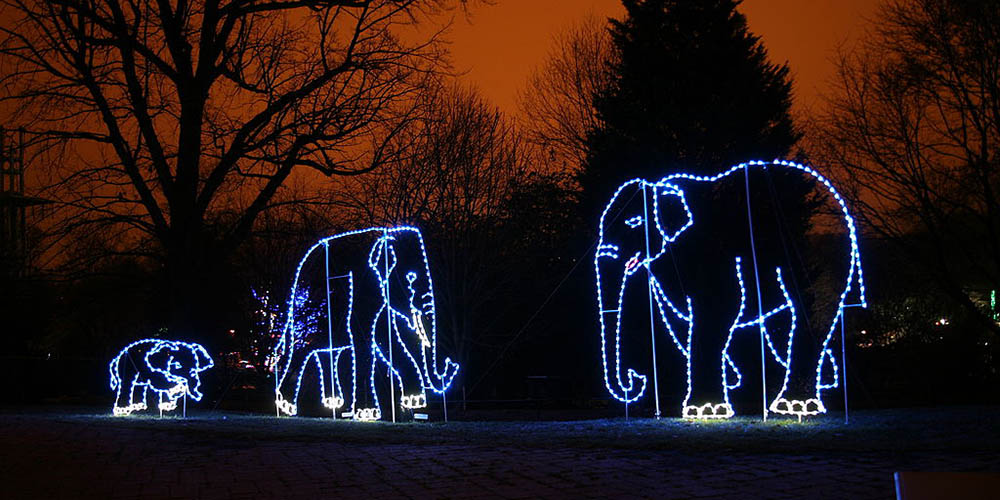 Blossoms Of Light
A great alternative to the Zoo Lights comes in the Blossoms of Light event at the Denver Botanic Gardens York Street location. Sparkling lights and animated light displays treat visitors as they explore the grounds. The O'Fallon Perennial Walk and the Romantic Gardens areas come with the price of admission. You can make your walk more pleasurable with a stop for warm beverages in a Blossoms of Light souvenir mug. Hours are 5:30pm – 9pm through January 1.
Tickets: Adults $13, Children $10
Trail Of Lights
The Denver Botanic Gardens Chatfield Farms has another one of the top Denver holiday activities centered around a rustic Christmas light setting – the Trail of Lights. This year Chatfield Farms offers a longer trail of lights with plenty of additional highlights after you're finished with the trail. You'll see a 60 foot cottonwood tree with an astonishing 35,000 lights, illuminated antique tractors, animal light displays in the Green Farm Barn, a warming hut and fire pit, and a magical enchanted forest for the kids. Trail of Lights runs through January 1 and is open from 5:30pm to 9pm.
Tickets: Adult $11, Children $8
Denver Christkindl Market
Celebrate Christmas in the German spirit at Denver's Christkindl Market, one of the most popular evening holiday activities in the city. Shop a wealth of original art vendors both local and European, see a full billing of entertainment acts, eat and drink at tasty vendors, and have a cold beer or Gluehwein while you take it all in. The Christkindl market is located at Denver's Skyline park, 16th Street and Arapahoe in downtown Denver. The market runs through December 23rd and it opens at 11am every day and closes at 7pm on weeknights and 9pm on weekends.
Tickets: Free attendance.
Take In A Show Or Concert
Colorado Symphony – Handel's Messiah
See classic composer Handel's masterpiece Messiah in all its glory at the Boettcher Concert Hall in downtown Denver. This famous oratorio was composed in 1741 by George Frideric Handel, and it tells the story of Jesus Christ's birth and resurrection. The production is performed by both the Colorado Symphony Orchestra and the Colorado Symphony Chorus. This event is a must see for any classical music fans. Get your tickets now for an unforgettable night at the symphony. Performances are this Friday the 16th and Saturday the 17th with a special sing-along event on the 18th.
Tickets: Start at $39.
Colorado Ballet – Nutcracker
If a trip to the ballet is more your style, check out the annual Nutcracker Ballet at Denver's Ellie Caulkins Opera House right next to the Boettcher Concert Hall. You'll be treated to stirring live music and dancing, and the costumes and effects will leave you stunned and impressed. This is a great event for both children and adults. The event starts on Thursday the 15th and runs through Saturday the 24th. Tickets are almost gone so get yours today.
Tickets: $56 and up because of limited availability.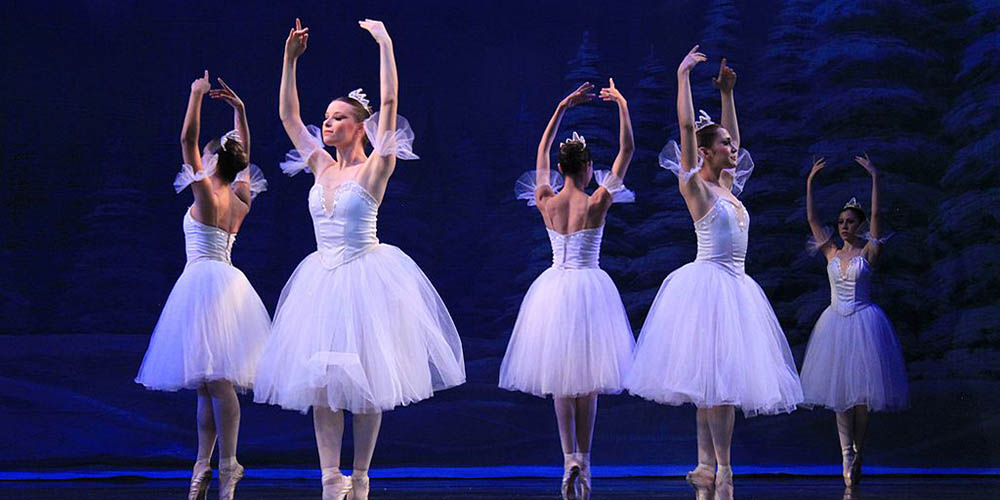 Go Ice Skating
Ice Skating represents the perfect date night or activity with the kids, and this is one of the holiday activities around town that you don't want to miss. Denver offers several places to ice skate both indoor and outdoors, but probably the most popular spot this holiday season is the Southwest Rink at Skyline Park. Located downtown on the 16th Street Mall, this is the perfect place to strap on some skates and show off. The rink is already open and it will continue to operate until Valentines Day this coming February. Rink hours vary, but it is generally open from 10am to 11pm on the weekends this December. Skate rental costs next to nothing, so what are you waiting for!
Tickets: Skate rental is $2 per person or free if you bring your own skates.
Thumb image and image one and two courtesy of Wikimedia Commons.