While most people would never dream of owning a home without insuring it, countless renters pay no mind to renters insurance every year while living as a tenant in a building they don't own. Yet everyone owns valuable things, and everyone is most certainly in need of the protection that renters coverage provides. So why is it that so many choose to skip renters insurance? Is it the cost? Do they believe that their landlord's insurance will protect them in the event of a calamity like fire or severe weather? Let's examine exactly why you can't afford not to have renters insurance.
Over A Third Of The US Rents
As of 2009, roughly 65% of all housing units that are occupied are lived in by their owners. This leaves about 35% of the population to rent their dwelling spaces, but that number doesn't quite do the staggering amount of renters justice. The National Multifamily Housing Council places the number of residents that live in rented properties at over 100 million. That is a lot of residents living in properties they don't own. Although survey numbers vary wildly depending on the source, organizations like US News and World Report place the percentage of tenants who don't have renters insurance at 60% or above. That is around 60 million people taking an unnecessary risk. But why do they choose to skip this vital insurance? Before we get into that, let's take a look at what exactly they are risking.
What Can Strike If You're A Renter
The thoughts and fears of concerned renters tend to gravitate towards theft or fire as the primary threats to their belongings as a renter. Yet severe weather damage such as wind and hail can also strike when they least expect it. As the holidays approach, renters are arguably much more likely to travel leaving their apartments subject to other unexpected damage like frozen or bursting pipes. But it doesn't always happen while you are away. Candles left burning unattended or cooking accidents can leave you not only with no residence but also without the belongings you depend upon and cherish.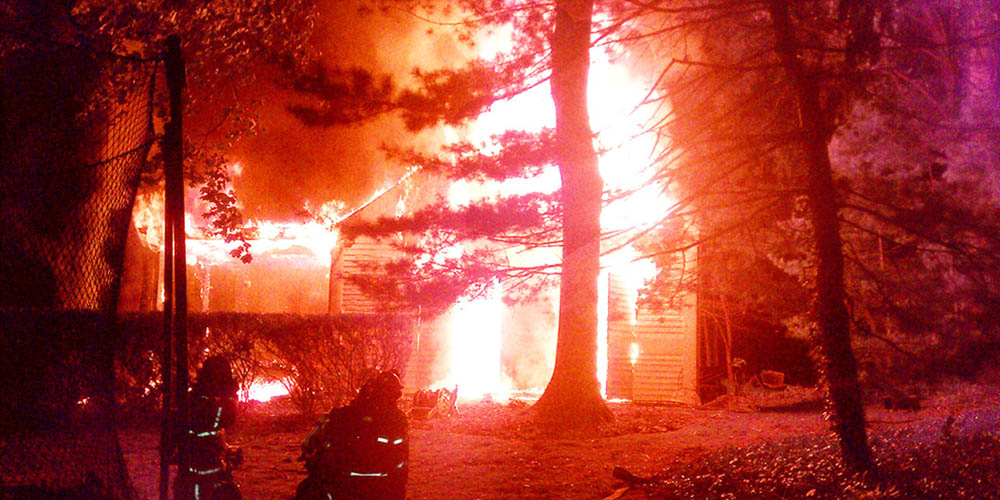 The threat of theft or an act of God isn't the only thing to be concerned about when you're a renter. Protecting against the liability of others while they are in your apartment is just as important as protecting against more tangible threats such as fire, theft, or severe weather. If guests unexpectedly injure themselves while in your apartment and you don't have renters insurance, you could find yourself in a sticky situation. No time is this concern more real than during the holidays when guests or visiting relatives show up to celebrate. Yet if you're not careful, you could find yourself with an unwanted surprise for the holiday season.
When facing the soaring costs of the aforementioned incidents, why would anyone take chances on living without renters insurance? Well there are two primary reasons that we need to explore.
My Landlord's Insurance Will Cover Me
A common misconception that many renters have is that their landlord's property insurance will cover them if something happens to the building. This is NOT true no matter who your landlord is or how nice is. His insurance is set up to cover the cost of his building, not what is inside it, and this includes your belongings. If you're counting on your landlord's insurance, you're counting on coverage that doesn't extend to you, and it's time to take steps to cover yourself.
Renters Coverage Costs Too Much
The other common misconception in renters insurance is that it costs too much. However, nothing could be further from the truth. Renters coverage by its very nature is inexpensive, and renters policy holders can get a significant amount of coverage for a low monthly premium. In some cases, bundling renters insurance with other coverage like auto insurance will greatly reduce the cost of the renters insurance in the first place. For example, a recent Square State customer was pleased to find that she and her husband could add renters insurance to their existing auto coverage for not only no additional cost, but they also saved $175 on their existing auto policy! We can't think of a better incentive to add renters insurance. While we can't guarantee similar savings in every circumstance, we can guarantee extremely low monthly costs starting at $5 or more for customers who bundle and $10 or more for stand alone coverage.
If You're A Tenant – Don't Skip Renters Insurance
Now that we have dispelled the myths of renters insurance, there has never been a better time to look into it. Don't be one of the 60 million people who ignore renters coverage because they think they don't need it or can't afford it. Renters insurance is easy and affordable to obtain, and it can be paid on a monthly, bi-monthly, quarterly, or half-yearly basis. Why not request a quote from Square State today? There are four different coverage options to choose from:
Personal Property Coverage: This coverage protects your personal property from the incidents we outlined above such as fire, theft, and weather damage . Personal property includes everything you own like electronics, jewelry, furniture, and other valuables. Be sure to note the difference between "replacement cost" and "actual cash value" for this kind of coverage. If you select actual cash value as your chosen coverage, you will only be reimbursed for the current value of the item. For example, if your TV is five years old, you will be reimbursed for what the TV is worth today. Replacement cost on the other hand will cover the cost of a new TV to replace your old one, and this is a much better option.
Loss Of Use: If you're put out of your apartment for an extended period of time, this can be an expensive endeavor in itself. Choose loss of use coverage to help a difficult transition that may mean several nights in a hotel room.
Personal Liability Coverage: This coverage only protects you against the injuries that others sustain in your apartment, but it does not extend to your personal injuries. This coverage is great for those who entertain guests regularly.
Medical Payments Coverage: This option is similar to Personal Liability Coverage, but it also extends to any injuries you may sustain in your apartment.
Take the time to look into renters insurance with Square State Insurance today.