In 2020, Colorado families need support more than ever. As a locally owned and operated Colorado business, we believe in giving back to our communities when they need it the most. In response, Square State Insurance is launching a new charity donation program this holiday season. We will be donating $10 to a rotating charity each time we receive a review on Yelp, Google, Facebook, and Next Door. It doesn't matter what the review says or if it's from a new or existing customer. Each review earns a donation! Let's take a closer look at how the reviews for charity program works.
How You Can Get Involved
It is easy and painless to participate in our reviews for charity commitment. We only ask that you take a couple moments out of your day and share your honest experience after working with Square State Insurance. No other action is needed on your part. We'll monitor our current reviews and automatically add new donations anytime we see an update. Due to existing limits set by the review websites, please only one review per site per person please.
What Charities Do We Donate To?
Currently we are working with two great charities in the Denver, CO area – Joy's Kitchen and Feeding Denver's Hungry. Both organizations rescue food and use donations to feed needy families. As of December 14, 2020, we've already donated $5500 to local, hard working charities. Since we use a rotating donation structure, we donate in amounts of $500 to one charity and then move on to the next one. While the two charities listed above are our primary focus right now, we plan to add new ones as we go along.
How To Leave A Review
There are several review sites where you can participate in reviews for charity. Here's a brief rundown on how to leave a review on each site.
Yelp
Yelp makes it easy to leave reviews for your favorite business. Simply click over to the Square State Insurance Yelp page, click the write a review button and leave your thoughts and a star rating.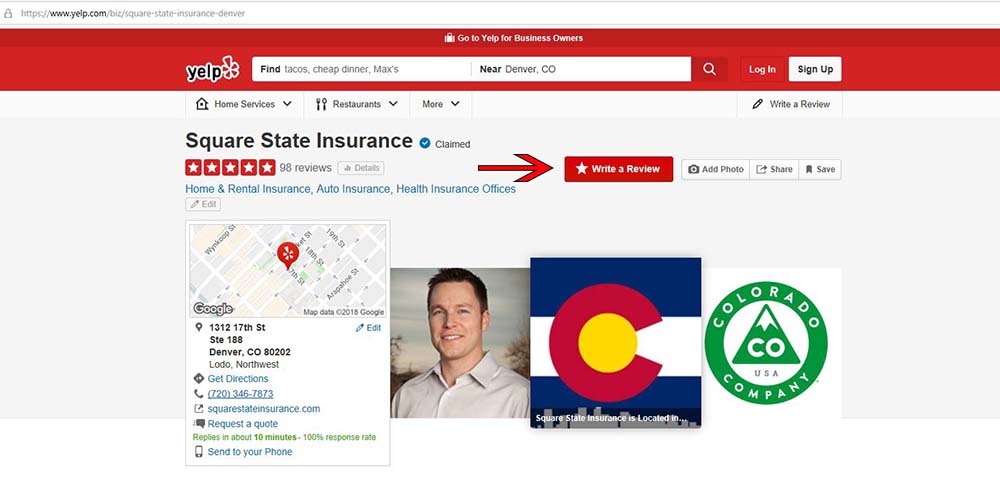 Google
It takes one more quick step to leave a Google review. First you will need to go to Google.com to get started. Searching in a different browser won't show Google reviews. Once you're at Google.com, look on the right side of the screen and you'll see the "Write A Review" button. We've placed a red arrow on the image below to help you find it. Simply click the button and leave your thoughts and a star review.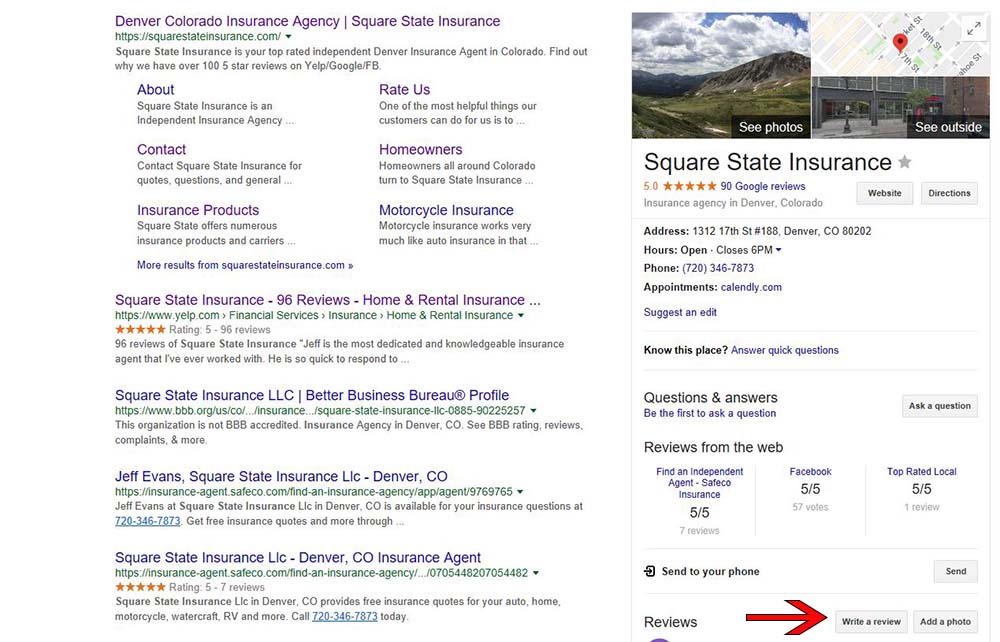 Facebook
To leave a review on the Square State Facebook page, you will need to create a Facebook account first if you don't have one. Next, click the […] button and choose the "Write a Review" option. Just like the other options, you can then share your thoughts and choose a star review.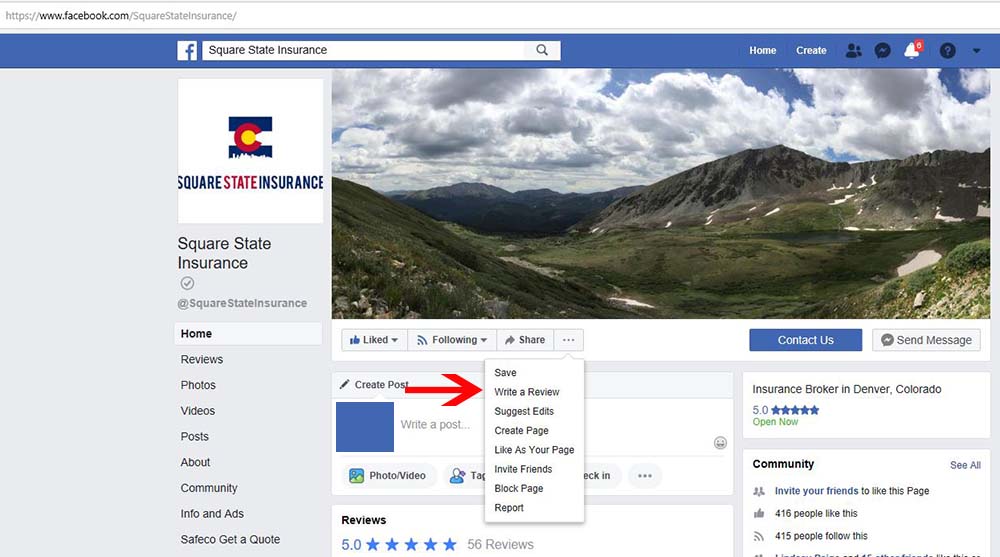 Next Door
Next Door is a newer site great for communicating with neighbors and sharing local recommendations. You'll want to first go to the Square State Insurance Next Door page. Next click the "Recommended" button below the map. You'll need to enter your address to make a recommendation, but Next Door keeps this information confidential. Then simply add your thoughts and click "Add Comment" to complete the review.

More Ways To Donate After Reviews For Charity
We'd like to encourage our customers and readers to consider donating their time or support to Joy's Kitchen and Feeding Denver's Hungry. You will find information about how to make an impact on each of their websites. Another way to help out this year is by donating to toy drives. The Boys And Girls Club of Denver and Kenzi's Causes are doing great work to make the season bright for needy children around Colorado.
Thanks for your time, and happy holidays from everyone at Square State Insurance!