In the past, we've discussed if and when you need life insurance. Evaluating your needs is always the first step in setting up proper life insurance coverage. Factors like dependent family members, small business ownership and retirement can necessitate life insurance coverage. However, people in the later stages of their life generally have more money to devote to life insurance, and coverage options like whole and universal life sound more appealing. If you're young or just starting a family, you may need something with a lower rate. This is where term life insurance comes in. Let's learn more about term life insurance and why it may be the best option if you've never had life insurance before.
What Is Term Life Insurance?
Term life insurance is a policy that provides fixed coverage over a set time period, usually 20 – 30 years. The key word is "term," as this insurance only provides coverage over a certain time limit. Once the term is up, your coverage expires and you'll need to get a new policy to continue coverage.
Many have come to think of life insurance as an investment as well as protection against unforeseen financial burdens. Term life insurance is an investment, but only in the sense that it pays a benefit should you pass away unexpectedly. There's no added cash or investment benefit like there is in whole life. The coverage you get in options like whole life insurance is permanent while term has a deadline.
Why Term Life?
So why would you choose a term life policy that expires when there is the option of life-long coverage with permanent insurance like whole life? The main reason is cost. Term life is more affordable than options like whole life. If you're young, the addition of another insurance policy in addition to health, auto, and home or renters insurance can seem very intimidating. However for many young adults, life insurance is something they can't go without. Term presents a life insurance option with an affordable premium.
In addition, your life insurance requirements will change as you grow older. Instead of trying to evaluate them now and get a whole or universal life policy, it may be better to get coverage for the now in term life. Later on down the line, you can re-evaluate your needs and get a permanent life insurance solution then.
Term Life Scenario 1
Let's examine a couple scenarios where you might need term life. The first and most obvious is that of a young family. They have a newborn that is going to require care for many years to come. The support of their baby is only possible with the income from both parents. Should one of the parents pass away unexpectedly, term coverage will help the family through some difficult challenges. If both parents are working, it's important that both have term life insurance, not just one or the other. The low cost of a term life policy makes this possible.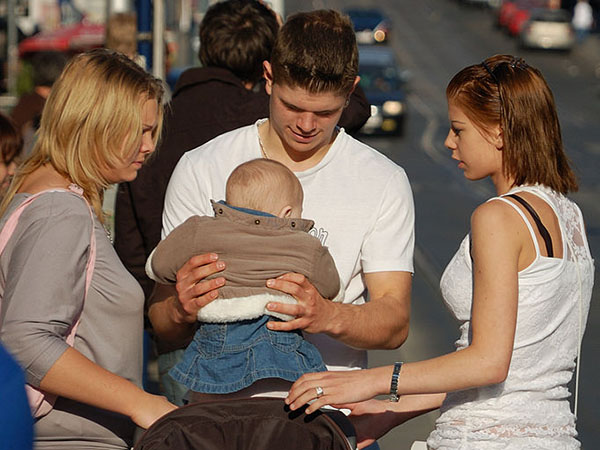 Term Life Scenario 2
Single individuals often require life insurance as well. There are other requirements like burial costs and dependent parents that may necessitate life insurance even if you're single. Single individuals who own their own business will also want to think about a term policy. Finally, you don't want to leave your parents with a significant amount of debt if you pass away unexpectedly. Term life provides an easy solution for those who aren't ready to purchase permanent life coverage.
Get Term Life With Square State
If you're ready to talk about term life insurance, contact Square State Insurance and we'll help you pick a coverage that is right for you. Even if you're not sure whether term or permanent insurance is the right option, we'll help you decide. You can also request a free insurance quote now at our Life Insurance Quote Page.
Image two courtesy of Wikimedia Commons.